About Asia Economic Dialogue (AED) 2023
Another annual Asia Economic Dialogue (AED 2023) organised by the Ministry of External Affairs, Government of India, and policy research think tank Pune International Centre (PIC) concluded in the city of Pune in Maharashtra state, India, on February 25, 2023.
A major annual international event, the three-day conference (Feb. 23 to 25) witnessed high-level participation as foreign ministers, policy makers, industry leaders, domain experts, academia and global trade and financial experts from India, Brazil, USA, UK, South Africa, Bhutan, Maldives, Switzerland, Mexico and Singapore engaged in discussions and debates on issues of national and international importance.
This year's theme, 'Asia and the Emerging World Order', comes in the backdrop of the post- pandemic geopolitical developments in Asia and Europe.
The sessions at AED 2023 deliberated on topics such as Global Growth Prospects: Looking Forward; India's Vision for its G20 Presidency; How the Global South will Shape the G20 Agenda; Making Semiconductor Supply Chains Resilient; Climate Change: A Real Threat; Meeting Climate Targets: The Road Ahead; FTAs: The Way Forward?; Metaverse: Understanding the Future; Pioneering Socially Responsible Business in the Emerging World Order; and Revolutionising the Economy: Integrating Payment Systems and Digitising Currencies.
Themes for the previous annual conferences were Resilient Global Growth in a Post-Pandemic World (2022), Post-Covid Global Trade and Finance Dynamics (2021) and Asia and the Emerging International Trading System (2020).
Click here to view the AED 2023 photo gallery
23/02/2023 to 25/02/2023
Pune
Amb. Gautam BambawaleAmb. Gautam Bambawale, Convener AED 2023, former High Commissioner to Pakistan, and former Ambassador to China and Bhutan
Introduction; and Chair at Inaugural Session
Amb. Bambawale began his career as Desk Officer for China in the Ministry of External Affairs, later serving as Director in the Americas Division. He then moved to Berlin, Germany, to become Director of the Indian Cultural Centre. After that, he returned to Beijing, China, to serve as Deputy Chief of Mission at the Indian Embassy. He then joined the Prime Minister's Office as Deputy Chief for the Division of National Security Affairs, Defence and International Policy. Amb. Bambawale was then appointed Minister (Political) and Head of the Political Wing at the Embassy of India in Washington DC., where he played a role in transforming India-U.S. relations. He also served as the first Consul General of India in Guangzhou, China, and later as Joint Secretary (East Asia) in the Ministry of External Affairs, responsible for relations with Japan, China and South Korea, among other countries. Amb. Bambawale has also been Ambassador of India to Bhutan and High Commissioner of India to Pakistan.
Read Details
Dr. Raghunath A MashelkarPresident, Pune International Centre
Opening Remarks and Closing Remarks
Dr. Raghunath A Mashelkar is a renowned scientist and leader in India, and the President of Pune International Centre. He has served as the Director General of the Council of Scientific and Industrial Research (CSIR) for 11 years and was also the President of Indian National Science Academy and President of the Institution of Chemical Engineers (UK). Dr Mashelkar is on the Board of Directors of several companies, and has been awarded the JRD Tata Corporate Leadership Award, Padma Shri (1991), Padma Bhushan (2000) and Padma Vibhushan (2014). He has also been honoured with honorary doctorates from 30 universities, including the Universities of London, Salford, Pretoria, Wisconsin and Delhi. Dr Mashelkar has played a critical role in shaping India's Science and Technology (S&T) policies, and is a member of the Scientific Advisory Council to the Prime Minister and the Scientific Advisory Committee to the Cabinet.
Read Details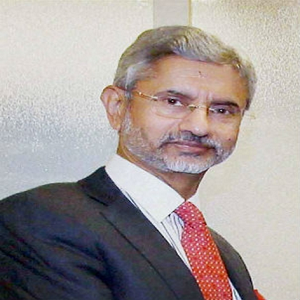 Hon. Dr. S JaishankarExternal Affairs Minister, Government of India
Speaker at Inaugural Session
Dr. S Jaishankar began education from The Air Force School and graduated in Chemistry from St. Stephen's College at the University of Delhi. After that, he pursued M.A. in Political Science and M.Phil. and PhD in International Relations from Jawaharlal Nehru University. A former diplomat who served as Foreign Secretary, Subrahmanyam Jaishankar was inducted into PM Modi's cabinet as a Union Minister of External affairs in 2019. Prior to diving into the Indian political sphere, he served as Indian Ambassador to the United States, China and the Czech Republic. In addition to this eminent portfolio, he also served as High Commissioner to Singapore (2007–09). He played a vital role in negotiating the Indo-US civilian nuclear agreement and played a pivotal role in reinforcing economic, trade and cultural relations between India and China. Jaishankar speaks Russian, English, Tamil, Hindi, conversational Japanese, and some Hungarian. He was awarded the Padma Shri in 2019.
Read Details
SCHEDULE (Indian Standard Time)
Day 1 Thursday
23 February, 2023
16:30 - 16:45 Hours

Introduction and Opening Remarks i

16:45 - 18:00 Hours

Inaugural Session i

18:10 - 19:00 Hours

Technology and Talent for Global Success (Fireside Chat) i
Day 2 Friday
24 February, 2023
10:00 - 11:30 Hours

Global Growth Prospects: Looking Forward i

11:45 - 12:15 Hours

India's Vision for Its G20 Presidency i

12:15 - 13:15 Hours

How the Global South will Shape the G20 Agenda i

14:15 - 15:30 Hours

Making Semiconductor Supply Chains Resilient i

15:45 - 16:15 Hours

Climate Change: A Real Threat i

16:15 - 17:15 Hours

Meeting Climate Targets: The Road Ahead i

17:15 - 18:30 Hours

FTAs: The Way Forward? i
Day 3 Saturday
25 February, 2023
09:00 - 10:00 Hours

Metaverse: Understanding the Future (Virtual Session) i

10:00 - 11:15 Hours

Pioneering Socially Responsible Business in the Emerging World Order i

11:30 - 12:45 Hours

Revolutionising the Economy: Integrating Payment Systems and Digitising Currencies i

12:45 - 13:25 Hours

Valedictory Session i

13:25 - 13:30 Hours

Closing Remarks i
Pune is a city in Maharashtra state of western India. Called 'Queen of the Deccan', Pune is the cultural capital of Maharashtra. The city gained importance in the 17 th century during the Maratha dynasty, when it served as the official capital. It was home to the Peshwas, who were the prime ministers of the Maratha Empire. After 1817, it was the seasonal capital of the British Bombay Presidency. Today, Pune is the headquarters of the Southern Command of the Indian army, with the National Defence Academy located nearby.
Referred to as the 'Oxford and Cambridge of India', the city is also a major educational and cultural centre, with more than 30 constituent and affiliated colleges, housing thousands of national and international students. Pune is one of the leading IT services centre, with the biggest IT park of India located at Hinjewadi.
Pune is surrounded by the spectacular Sahyadri range, which has many important forts of historical significance, such as Raigad, Pratapgad and Torna.
The city is well linked to other parts of the country. The Pune Airport is approximately 15km from the city centre and is well connected with all the states of India and several international destinations.
Asia Economic Dialogue Charter of Participation
The Asia Economic Dialogue is an inclusive and diverse forum with participants from across a range of backgrounds. We place a high premium on ensuring open and safe environment throughout the conference for every attendee, regardless of nationality, ethnicity, religion, gender identity, sexual orientation or disability. We request all the stakeholders associated with Asia Economic Dialogue including speakers, delegates, organizers and hotel staff to follow the Charter of Participation and understand the repercussions of any violation.
Violations of the Charter of Participation
We expect all the stakeholders to respect our anti-harassment policy and abide by our expected conduct guidelines during the conference. This also includes conference related social media engagement and social events. You are expected to comply immediately if asked by conference organizers to cease prohibited behavior. In case of persistence of inappropriate behavior, the organizers may take action they deem appropriate and/ or report to appropriate authorities
Reporting Inappropriate Conduct
Please notify the organizers immediately if you are subjected to harassment or any other inappropriate behavior. If you witness or have a grievance and prefer to remain anonymous, please fill out and submit a handwritten/typed complaint and submit it to a member of the organizing team. In case of emergency, please first contact Pune Police immediately by dialing 100 (Emergency Toll-Free number) and proceed to notify conference organizers of the emergency.
Attendance and Dress Code
We restrict access to the Asia Economic Dialogue to participants with valid invitation cards. All participants must attend the conference in formal attire (business formal / traditional clothing).
Conference Participation
Please be respectful, mindful and understanding to the fellow participants. We aim to make the environment open and inclusive. Profanities or slurs are strictly prohibited.
Drugs and Alcohol
We abide by and enforce all local, state, and central laws and regulations surrounding possession and/or use of illegal substances. In addition, please limit tobacco use to permitted areas and consume alcohol in moderation.
Anti-harassment Policy
We do not tolerate any form of harassment at the Asia Economic Dialogue. Our zero-tolerance policy prohibits all forms of harassment including, but not limited to: Offensive or derogatory comments related to gender, sexual orientation, nationality, ethnicity, religion, or disability; Offensive or derogatory comments towards other participants, opinions, or personal expressions; Sexual comments or unwanted physical contact; The display of inappropriate images or memorabilia; Violence, intimidation, threats; or stalking; Inappropriate or unwanted social contact with other participants; and Excessive or unwanted photography or videography of conference participants and organizers.